It's no surprise that New Orleans is one of the nation's most popular destinations. With its rich culture and history, it has something for everyone! If you're planning a trip to New Orleans and are looking for transportation, why not consider renting a party bus? Party buses are great for any occasion and can be rented at a reasonable price. A party bus rental will help make your trip even more memorable because you'll have ample space at your disposal.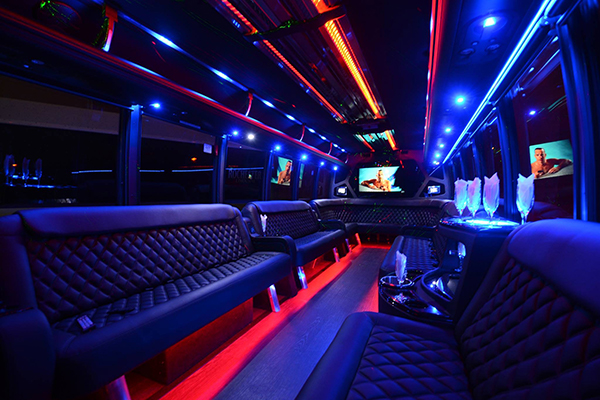 Party Bus in New Orleans
Party Bus New Orleans is the premier party bus company in New Orleans. We have a fleet of party buses, luxury party buses, limo buses, minibus buses and motorcoach buses. Our company offers services such as bachelor parties, birthday parties, wedding transportation, proms etc. You can trust us to provide you with the most elegant vehicles for your special occasions like proms or weddings. Our goal is to give you an experience that'll last forever as we take care of all your transportation needs from start to finish!
Party Buses To Choose from include
Party buses are the most popular option for groups of all sizes. Whether you're traveling with your family, friends, or coworkers, they provide a fun and convenient way to travel together. The most popular party buses in New Orleans are: The Ragin' Cajun Party Bus – This one is equipped with everything you need to have an awesome time! It has a dance floor, bar countertop with ice maker and sink, lots of seating space (including cushy captain's chairs), flat screen TV with DVD player (plus access to movies on Netflix), surround sound speakers that can blast music from any smart phone or tablet through Bluetooth connectivity…and much more! They come in various sizes but can hold up to 24 people total. The Cadillac Escalade Limousine – These babies are decked out like no other limos we've seen before! They're loaded up with all sorts of cool features including disco lights inside the cabin so everyone gets their groove on while going from place A to place B..
Why Choose Party Bus New Orleans?
Our team of professionals is here to help you have a great time.We have a fleet of party buses that can seat between 16 and 30 passengers, and we also have limo buses for clients who want an intimate experience with fewer people on board. We have the resources to accommodate your needs no matter what they may be. Our customer service agents are available 24/7 via phone or email. Our office staff makes sure everything runs smoothly behind the scenes—from accounting services to human resources—so all our customers have access to high-quality service every step of their journey with us!
The Best Group Day Trips
What better way to enjoy New Orleans than to take a day trip? There are several options available and they can be combined into one big group adventure. If you want to include the French Quarter in your fun, visit Jackson Square and explore the shops on Royal Street. For music lovers, find out where locals go for jazz at Preservation Hall or rock out at The House of Blues. Check out St Louis Cathedral to see some beautiful architecture and don't forget about Cafe du Monde for some beignets! For a history buff or someone who likes nature, check out the Garden District tour with its beautiful homes built by wealthy families during the 19th century or go on an Audubon Zoo excursion that includes an airboat ride through Bayou Sauvage Wildlife Reserve (weather permitting). The Aquarium will give you plenty of opportunities for photos with sharks and other sea creatures while learning about ocean conservation efforts throughout history at either aquarium location: Riverfront Park or Audubon Nature Institute's campus located between Uptown and Mid City neighborhoods.
Do You Need to Rent a Limousine Bus?
If you are looking to find the best way to get your group out on the town, then a limousine bus is an excellent option. A limousine bus is a great way to travel in style and have plenty of room for everyone. You will be able to relax with your friends as well as enjoy all of the amenities that come with traveling in a luxury vehicle such as this one. If you are looking for something more than just transportation, then renting a party bus might be right for you. Many people choose this type of transportation because they want their guests to feel special while riding around town enjoying each other's company at dinner or even just going out shopping on their day off from work during lunch time!
Charter a Sprinter Bus
A sprinter bus is a type of vehicle that is used to transport large groups of people. There are many different types of sprinter buses, but most are designed with the needs of passengers in mind. For example, they are very comfortable and spacious, making them perfect for trips where you plan on spending a lot of time sitting down. Many also have air conditioning systems that can keep the entire vehicle cool at all times. Because these buses are so big and comfortable, it's best if you plan your trip around an activity that involves being seated for long periods of time. This could include going on a cruise or taking a cross-country road trip with friends or family members who live far away from each other. It's not recommended that you charter one if all you're planning on doing is having dinner out or attending an event at night; instead, rent something smaller like an SUV if this is what works best for your needs! Chartering one does come with its disadvantages as well; one obvious issue would be cost since these types tend not only more expensive than regular ones but also cost more per hour than smaller vehicles such as SUVs or minivans (although this depends on what kind).
Learn About Party Buses
Party buses are a great way to add some fun to your next party, event, or road trip. Party buses provide comfort and convenience while still giving passengers the freedom to drink and smoke as they please. What is a party bus?A party bus is a large vehicle that seats up to 30 people. It typically has a bar area with stools or seats, a bathroom, and other amenities like televisions or DVD players. Party buses are available for rent by anyone who wants them; whether you're planning an intimate night out or hosting a bachelorette party, we've got you covered! We offer different types of rentals based on your needs: if you're looking for something smaller (like our limo rental), we have options available too!
Calculate Rates
Our rates are calculated based on the vehicle you rent, the number of people in your party, and how long you're going to be using it. If you'd like an exact quote for your trip, fill out our quote request form. A standard party bus rental is $225 per hour (up to 8 hours). A standard limousine or minibus rental is $275 per hour (up to 8 hours). New Orleans' most popular mode of transportation is our luxurious motorcoach rentals at $100 per hour (up to 8 hours).
Shuttle Bus Service
We'll go over what exactly a shuttle service is, how it works and why it's so great. A shuttle service is the fastest way to get around town. It's especially helpful if you're traveling with a large group or have lots of luggage and don't want to deal with driving yourself or taking public transportation. You'll be able to travel from place-to-place quickly and easily without having to worry about parking your own car at each location or waiting around for other people who may be late for their ride home from work or school (or wherever).
Rent a Minibus to Explore Top Spots in New Orleans, Louisiana
A minibus is the perfect option for large groups of 10-18 people who would like to explore New Orleans in style. You can reserve a minibus for a day or longer and customize your route through the city based on what interests you. A minibus is ideal for families or groups of friends looking to see all that New Orleans has to offer.
Comfortable Game Day Mini Bus Rentals
Mini Bus in New Orleans is a great new way to get you and your friends to the game or party. Game day mini buses are comfortable and fun, and they can help make your event even more memorable. There are many benefits to renting a game day mini bus, which we will discuss below. The first benefit of renting a game day mini bus is that it can transport everyone who wants to go on the trip together. If you have friends who live in different places and some of them are going with you, this is an excellent option for getting everyone together at once and transporting them safely from place to place. Another reason why passengers choose this method of transportation over other types (like driving themselves) is because it allows them more freedom inside their vehicle so that they don't feel trapped by other people's schedules all day long!
Not Sure if a Bus Is Right for You?
Here are some things to consider: What kind of transportation do you currently use? If you have a van or SUV that can fit 14 people comfortably and safely, then renting a large shuttle might not be necessary. If your current vehicle only seats six people, or if it has no adequate storage space for luggage and other gear, then renting an oversized vehicle like a party bus might make sense. Do your passengers need to remain seated for long periods of time? If so, renting an oversized limousine-like vehicle will likely provide more comfort. On the other hand, if all your guests are young adults who can stand up comfortably during long rides and climb in and out of vehicles without assistance from others due to age or disability issues—as well as if there aren't any special needs among any of them—then smaller sport utility vehicles with higher seating capacity may be more suitable. Is there anyone in your group who isn't able to walk very far without assistance? In this case, larger cars with low steps could pose problems when trying to get into them; small automobiles may work better instead (and even cars with higher steps). However, keep in mind that some drivers may not want their vehicles used by disabled passengers due to liability concerns—so ask before making reservations!
How We Can Help With Travel
There's no denying that traveling to a new place can be stressful. There are so many things to consider and the more time you spend on your trip, the more details there are to worry about. But with our help, we can make sure that your travel plans go off without a hitch. We know how expensive it can be to travel long distances, so we've made our services as affordable as possible for everyone who wants them. Our goal is for you to enjoy every minute of your journey in New Orleans!
Motorcoach Services From Limo Service New Orleans
Limo Service New Orleans is known throughout the city as one of the best rental companies in town. They offer an array of vehicles in different styles and sizes, including buses that can accommodate up to 60 passengers at once! Limo Service New Orleans has an excellent track record when it comes to providing customers with reliable transportation solutions.
You're sure to find party buses to fit your travel plan
Party buses are a great way to travel in style. They're spacious, fun, and offer all the amenities you could want on your next trip! We hope this guide to party buses in New Orleans has helped you find the right bus for your group. If you're looking for more information on how to book a charter bus trip, then contact us today! Our team would be happy to assist with planning any event or road trip by providing assistance with booking and finding the appropriate vehicle that fits all of your needs.
Party Bus Rental Prices in New Orleans
| | |
| --- | --- |
| Vehicle | Rental Pricing |
| 6 Passenger Limo | $110-$145 hourly* |
| 8 Passenger Limo | $120-$155 hourly* |
| 12 Passenger Limo | $125-$165 hourly* |
| 18 Passenger Minibus | $140-$170 hourly* |
| 20 Passenger Party Bus | $150-$200 hourly* |
| 25 Passenger Party Bus | $160-$220 hourly* |
| 30 Passenger Party Bus | $180-$260 hourly* |
| 30 Passenger School Bus | $145-$240 hourly* |
| 50 Passenger Coach Bus | $150-$240 hourly* |
| 56 Passenger Charter Bus | $150-$260 hourly* |
*Prices vary greatly depending on the city and state of your service. Due to COVID-19, rental prices shown in past estimates may not reflect actual pricing which may be significantly higher depending on availability.