Need a shuttle to your next event in New Orleans? We can help! For years, our company has provided the best transportation services to both locals and visitors who want to enjoy the city with their friends or family. Whether you need a party bus rental for a night out on Bourbon Street or just want to add some style to your brunch outing at Antoine's Restaurant—we've got you covered!
How Much Does It Cost For A Party Bus?
A Party Bus can range in price based on your needs. Sometimes it's even more effective to get a party bus than a limo, as it seats more passengers. A common rate for party bus is $90 to $250 an hour depending on how many people you plan to bring, pick up and drop off location.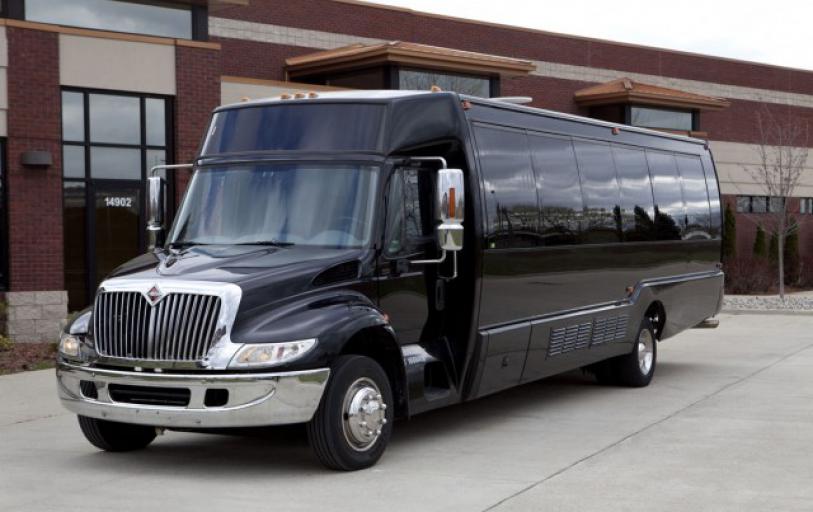 What is a Party Bus?
You have a couple options when thinking about a party bus, you can get a Party Bus or a Limo. Both types of vehicles are great options as they can seat from (10 people) to large groups (40-50 people). The party bus is very much like a limo, the driver becomes your own personal chauffeur. There is an array of different types of cars to suit your different taste and the mood for your overall event. Pick and choose whatever style, color and feel you want for your car and have a fun time with your friends and loved ones.
How many people fit in a party bus?
When planning to book a party bus, there are many options to seeing what best fits your needs. There is different kinds and different sizes of vehicles such as a Party Bus, Charter Bus, or a Limousine to safely and comfortably transport your group to your event. A normal sized Party Bus can seat anywhere from 12 to 28 passengers. However, a Limousine or SUV is ideal for 6-12 passengers
Where to go on a party bus?
School Events
Weddings
Birthday Parties
Prom
Night Out With the girls.
Bachelor/Bachelorette Party
Corporate Events
Sporting Events
How much do you tip a limo driver?
When thinking about what to tip your limo driver, there are few things you should keep in mind. To start, think about how was the overall service, timeliness, or the condition of the vehicle you received. A good rule of thumb is to tip about 20% of the price, if the service was overall a great experience.
What size and what type of Party Bus should I get?
When planning to book a party bus, there are many options to seeing what best fits your needs. There is different kinds and different sizes of vehicles such as a Party Bus, Charter Bus, or a Limousine to safely and comfortably transport your group to your event. A normal sized Party Bus can seat anywhere from 12 to 28 passengers. However, a Limousine or SUV is ideal for 6-12 passengers
How old do you have to be to be in a party bus?
If the trip is a nighttime bar event, everyone on the bus must be 21 years of age. The only exceptions are when we are going somewhere that the people under the age of 21 can get into.
What's the Benefit of Party Bus New Orleans?
You can have your own designated driver and even bring along some drinks for your guests without having to worry about driving home once the night is over. Plus, what better way to get around New Orleans than by taking off in style with your friends? There's no limit on how many people can ride on Party Bus New Orleans vehicles, so you can make sure everyone has enough room to enjoy themselves. This makes them ideal for weddings or large birthday parties where there may be extra guests that weren't originally invited (meaning they might not be able to fit in another car).
How Do I Book a Sprinter Van Rental?
To book a Sprinter Van rental, simply call our 24-hour customer service line. You can also send an email and one of our team members will get back to you within 24 hours. It's important to know that not every type of vehicle is available for every location throughout the state of Louisiana so it may take some time before we can locate an appropriate option in New Orleans. If this is the case with your desired trip date or destination, we recommend booking quickly in order to guarantee availability on any given day; however if you have set plans already then don't worry! We'll do everything possible here too.
What Kind of Sprinter Van Models Do You Have Available?
The short answer is that we have a variety of Sprinter vans available, and the longer answer is that we have many different Sprinter vans available to meet your needs. There are many factors involved in choosing the right size of vehicle for you, including the number of people who will be traveling together and what kind of cargo or equipment you will be transporting.
How Much Will It Cost to Charter a Bus?
The type of bus you choose. Luxury buses are more expensive than regular transit buses, and executive trolleys are more expensive than mini buses. The length of your trip. A two-hour charter costs more than a one-hour charter, for example. The number of people in your party or group (the "head count"). In general, the larger the party or group, the less it will cost per person to ride in style. The time of year (peak season vs non-peak season). During peak times like Mardi Gras and Jazz Fest weekends in New Orleans' spring and fall months respectively, prices go up accordingly due to demand!
Can I Charter a Minibus for an Overnight Trip?
Yes, you can. Minibuses are good for all sorts of trips. They're great for short trips because they have more space than sedans and SUVs. They're also useful for long-haul journeys because they can comfortably accommodate large groups of people and even include restroom facilities to add an extra level of convenience on your trip.
What Limos Are in Our Fleet?
When you rent a limousine, you want to be sure that it meets your needs and expectations. The first step is choosing among the many different vehicle types available in our fleet. We have several different limos to choose from, each with their own unique features and amenities: SUV Limo – This is one of our most popular choices for those who need an affordable rental with plenty of room for passengers and luggage alike. Mini Party Bus – This vehicle can seat up to 24 people comfortably, making it ideal for bachelor or bachelorette parties, weddings or other large gatherings. Luxury Stretch Limo – For groups who want the ultimate luxury ride experience on their special day (or night), this option provides plenty of space as well as high-end features such as furniture customizations and refrigerators/wet bars.
Why Do Some Bus Quotes Seem So Much More Expensive Than Others?
The price difference can be as great as $100 per hour or more. Why is this? It depends! The cost of renting a bus depends on so many factors: the size of the vehicle, how far you're traveling, how many stops you need to make along the way, and how many people there are in your party. For example: If it's just one person traveling alone on their own schedule (no stops along the way), then they'll probably pay less than if someone else is driving them around town since there are no additional drivers' salaries to consider.
How Much Does a Party Bus Rental Generally Cost?
The cost of your party bus rental will vary depending on the type of vehicle you choose and the number of passengers it can hold. For example, if you're traveling across city streets in New Orleans and wish to travel for two hours, then a 12-passenger stretch limo may be just right for your needs. However, if you want to drive around town with 20 friends or family members and need a limo that can accommodate more people than that (and maybe even have some room left over), then an 18-passenger party bus would be great for your road trip! Another factor affecting pricing is distance traveled. It's important to note that mileage charges are typically only applicable when renting long-distance vehicles such as limousines or buses because they tend to get good gas mileage while moving at higher speeds over longer periods of time.
How Far in Advance Should I Reserve My Bus?
For the most part, you can reserve your bus rental as soon as you know the date of your event. It's best to do so at least 3 weeks before, but for most events, we'll be able to accommodate you with a few days' notice. If there are specific factors that may affect whether or not we can provide a particular type of vehicle or passenger capacity, then it's best to give us at least 2 months' notice so that we can prepare accordingly.
What Vehicles Do You Offer for Hire?
We offer a variety of vehicles for hire, including limousines and party buses. We also offer luxury sedans, vans and SUVs if you need a smaller vehicle. The most popular type of vehicle among our customers is the stretch limousine, which seats up to 14 people in comfort with plenty of room for luggage or other items. Our most economical vehicles are the shuttle buses that seat up to 15 passengers comfortably, but these can be less luxurious than some other options on our menu.
What Is Your Service Area?
Our service area includes the entire New Orleans metropolitan area, as well as Baton Rouge, Lafayette and Gulfport. Additionally, we offer services throughout Mississippi (including Biloxi), Louisiana's Texas border cities of Lake Charles and Shreveport as well as Mobile in Alabama. We also offer regular service to Atlanta, Georgia; Pensacola Florida; Tampa/St Petersburg Florida; Montgomery Alabama and Houston Texas for those traveling abroad or local residents who may want to travel down south for a weekend getaway!
If I Don't Need the Bus for the Entire Day, Will I Still Need to Pay For It for the Entire Day?
If you don't need the bus for the entire day, we do have several options available. The first would be to rent it for a shorter period of time—this can be anywhere between two hours and six hours. The second option is to split up your party into two smaller groups and split the cost of renting a limo or bus between them (this works well if there are multiple bridal parties).
Limo & Bus Rental Prices in New Orleans
| | |
| --- | --- |
| Vehicle | Rental Pricing |
| 6 Passenger Limo | $110-$145 hourly* |
| 8 Passenger Limo | $120-$155 hourly* |
| 12 Passenger Limo | $125-$165 hourly* |
| 18 Passenger Minibus | $140-$170 hourly* |
| 20 Passenger Party Bus | $150-$200 hourly* |
| 25 Passenger Party Bus | $160-$220 hourly* |
| 30 Passenger Party Bus | $180-$260 hourly* |
| 30 Passenger School Bus | $145-$240 hourly* |
| 50 Passenger Coach Bus | $150-$240 hourly* |
| 56 Passenger Charter Bus | $150-$260 hourly* |
*Prices vary greatly depending on the city and state of your service. Due to COVID-19, rental prices shown in past estimates may not reflect actual pricing which may be significantly higher depending on availability.